Christmas Lighting Installation Austin TX
When it's time for Christmas light installation around your home, it isn't always simple to get into the holiday spirit. You probably aren't going to see a White Christmas heading towards Austin, TX, anytime soon, and set-up rarely goes smoothly.
Whether all of your strands are knotted together in the attic, or you have any burned out bulbs, lighting set up takes hours longer than you anticipated. And when falling off of ladders sends thousands to the emergency room every year, it only makes sense to hire an Austin Christmas hanging company to handle your holiday chores for you.
Unfortunately, it can often feel as if choosing a professional Christmas light installment service costs a fortune, forcing you to risk taking the project alone. Instead, Premier Austin Holiday Lighting remains the reliable choice in local Christmas light set-up solutions.
When you need a reliable Christmas light installation company that leaves you with an expert quality finish and enhanced festive cheer, you won't find a better company than our technicians. Hire the professional Christmas light service you can trust and contact us today.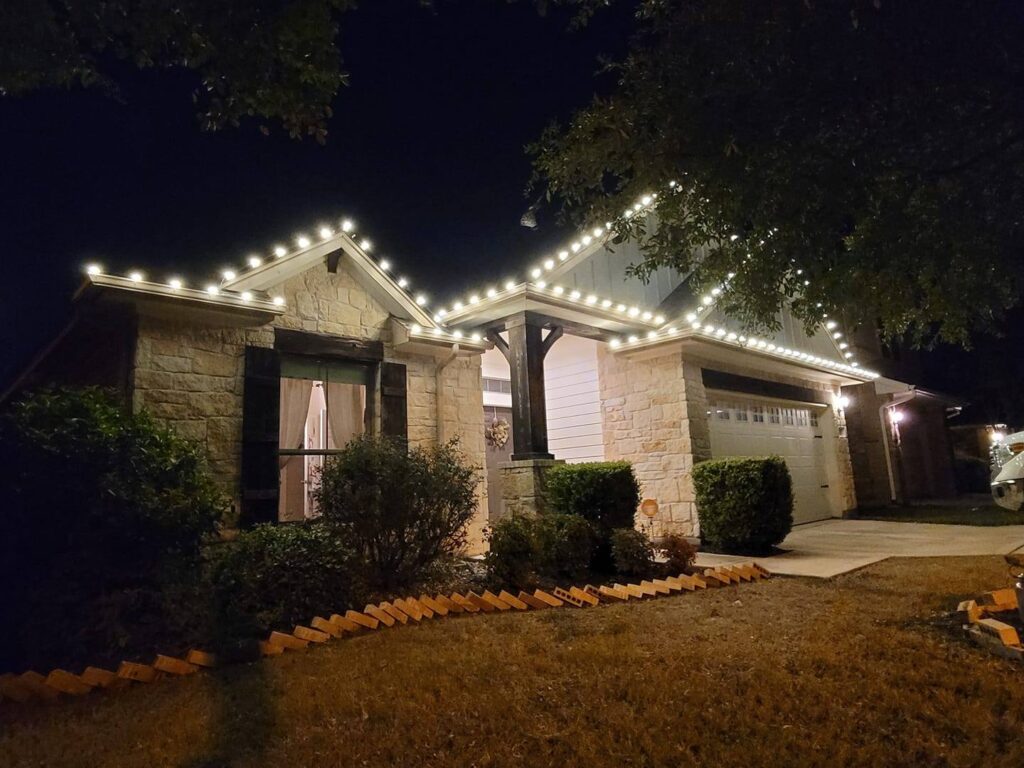 HOW OUR RENTAL SERVICE WORKS
Give us a call or fill out our contact form 
We'll give you an online estimate using Satellite imaging. If we can't get a good image of your house or building, we'll come out in person
We are a complete Christmas Light rental service. We own all of our products
We install our commercial grade lights, maintain them, take them down, and store them in our warehouse for you next year
Our lights are custom fit to your building and are professionally installed 
We use solar timers that come on at dark and stay on as long as you would like
We require payment in full before we install 
We only accept CASH or Credit Cards/Debit Cards. Sorry NO CHECKS
Price ranges for the average* house or business.
Basic Package: $500-$1,200
Advanced Package: $900-$2,500
Gingerbread Package: $1,500-$3,500
Installing seasonal light displays isn't for everyone, and it isn't always simple to know what you can and can't complete until it's already too late. Whether you need to know you aren't wasting money on decorations you can't use, or you don't want to see yourself seriously injured, our lighting experts make it easier every day.
CHRISTMAS LIGHTING COMPANY NEAR ME
Whether you can't remember where all of your lights and decorations got stored, or you don't have as many working strands as you remembered, hiring local professional Christmas light companies in the safe and convenient way to celebrate.

Unfortunately, the service has also gotten relatively competitive over the past few years, and you need help maintaining your decorating budget. When a local Christmas light company charges a fortune for your job, it hardly seems worth it in the end.

Instead, we continue providing affordable service options that spread festive cheer throughout the season, helping you to ring in the special occasions for less. No matter which areas need our help or what you need us to complete, we handle it all:
Residential Christmas Light Installers
Commercial Christmas Light Installation
Interior Christmas Light Installer
Outdoor Christmas Lighting Setup
Seasonal Lighting Installation
Custom Christmas Light Installation
And more holiday lighting installation services.
You can rely on us for enhancing your home or preparing your company for the season, all at lower pricing than anyone else around. See why more residents turn to us as their best brightening company.
HOLIDAY LIGHT INSTALLATION AUSTIN
You've spent hours searching online for "companies that hang Christmas lights near me", but you haven't seen any results worth your while. Either these service providers charge too high of pricing, or they don't offer the set of bulbs you had anticipated. 
​It doesn't help that most companies you find are landscaping services looking to discover work in the offseason. Once you pay them upfront, they have your home looking awful with sagging strands and mismatched lights.
​Rather than relying on the same cheap bulbs, most retailers carry, or the dangerous task of climbing all over your metal roof in the winter, we are here for you with professional equipment items and modern LED strands. No one leaves your house appearing more festive for less than our experienced light fitting team.
See why more area residents turn to Premier Austin Holiday Lighting for superior outdoor decorations and more. Contact us today to discover your best designs for any living space.
Whether you've kept your company operating in the same shop for years, or you only recently had your grand opening, it's easy for the holiday season to sneak up on you. Unfortunately, not every business has a dedicated maintenance team that handles all of your seasonal decorating needs.
When you need dazzling outdoor festive lights that pull in a crowd, or indoor displays to keep the cheer flowing, we can assist you with all of your store's setups. Whether you have specific branded colors you wish us to focus on or you just want to maximize your budget, we have solutions for all tastes and holidays.
It doesn't help when you've spent all year preparing for Black Friday, and now your building remains a mess from the crowds. When you run short on time or the resources to create a holiday-themed shopping experience, we are here for your customers.
Why waste time that you don't have struggling with old lights and knotted strands? Our technicians know how to set your shop up for the holidays with the best lighting services around.
Christmas Light Companies
The typical person might not give their Christmas tree much thought, because after all, it's the same old decorations year after year. It usually isn't until you've tossed out your existing false tree or purchased a brand-new set of ornaments that the scenery indoors begins to change.
However, not everyone has access to new holiday decorating materials, and you might not have enough time to make it to the store. And for homeowners who struggle navigating around tight spaces, or lifting heavy storage containers, a helping hand is a welcomed addition to their chores.
We can help you wrap your tree with quality celebration bulbs that dazzle and sparkle throughout the season. When you can't seem to get to your tree, we'll have it lit faster than anyone else. If wreaths and greenery are items you love during the holidays, we can add that to your list.
Why continue struggling with your tree lighting needs when we provide a simple solution every day? Contact us now and wrap your tree with experienced decorating professionals.
Outdoor Christmas Light Installer Near Me
Naturally, the outdoor areas need the most decorating attention than your indoors, and that is where our team excels. No matter how tall your building might be or what overall themes or appearances you are trying to see, we can help you achieve it all for less.
Whether you're rapidly running out of lights after completing your house's front section, or you don't know how to install them around screened patios and swimming pools, we can handle any outdoor luminescence needs with ease. No matter how broad your yards or where you need us to spread holiday cheer, we can assist you with any decorations today.
Even if you have all of the bulbs and decorations you need put together, you don't always have the time or the know-how to have them set up outside. No matter how unusual the shape of your spaces might be or their dimensions, we always leave them appearing they are most festive.
From seasonal landscape lights and bulb netting for bushes to turning any species of tree in your yards into a Christmas one, we can help you with it all. Stop struggling with ladders and tangled lights and leave it all to us.
Seasonal Lights Installation
Holiday lighting should only be temporary, but if you drive around long enough, you still see them hanging from patios in July. For the typical homeowner, installing lights is somehow the simple part.
Few things take away from a person's curb appeal quite like unpowered hanging icicles when the temperatures hit triple digits. Even Christmas's biggest fans need to retain their outdoor excitement in the other seasons.
Some homeowners do too good of a job securing their lights, while others remain worried about causing damage trying to take them down. When you have professional lighting installers handle your decorations, it means a simpler time removing them after the celebrations cease.
When you need a faster way of tearing down after the festive season, it helps to have them installed correctly from the start. If your seasonal lights tend to hang on for months after winter, we make your strands simple to pull back off.
Custom Christmas Lights Austin
You decide that a fun family tradition is getting everyone into the car and driving around to see everyone's lighting displays. However, after a while, it starts to feel as if everyone has the same selection of strands as their neighbors.
The retailer that you depend on for decorations each year often only carries a couple of brands and styles. When you're searching for something new or unique, they aren't much help in the end.
Whether you need a grand display set to songs or a standard set of strands and decorations, our team can complete any designs you have in mind. The only limit to your unique display is your imagination.
When you need custom lights that set you apart from the other homes in your area, we make it simple to see unique patterns and colors without the hassle. Stop restricting yourself to whatever your local retail chain has in stock and receive the custom lights your house deserves.
Christmas Light Installers Near Me
Whether you dread having to think about holiday lighting displays or the season can't get here fast enough, it helps to know that there is a helping hand ready to assist you with your presentations. No one else accomplishes more lighting needs and custom decorative setups like our experienced installment team.
​
See why more area homeowners and businesses turn to us for holiday cheer. No one leaves your buildings looking better like Premier Austin Holiday Lighting does each season.